Our Hog Roast Yetminster experts can help you with your purchase of a hog roast machine from start to finish, whatever reason you need one for. Perhaps you're a professional caterer yourself and you've seen a gap in the market for hog roasts in your area or maybe you're a domestic chef who's realised that having one at home can save you time, money and stress when cooking for your own family. Either way, we can assist you with buying the machine that suits your requirements, as we have several models in our range.
We designed our range of hog roasters and build them by hand in our Lancashire factory and you can see both new and used ones in our showroom. You're more than welcome to visit us and you can arrange an appointment with Hog Roast Yetminster in order to do so, where our pro chefs can talk you through how to use our machines and which would be the best one for you. You can even see a machine being built in our factory if you have a tour!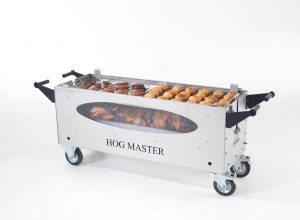 We understand that purchasing your own hog roast machine is a big decision, as it's a big investment to make, but we make the process easy for you – as easy as possible – so as to make it less daunting. We offer financing options and you can even trade in your machine for a newer one in the future if you see the need. Also, our used machines come serviced and with both a 12-month gas check certificate and warranty, so you can rest assured that you're in safe hands when dealing with us, whether you buy a new or second hand one.
You may not know that our hog roasters are all incredibly versatile, so you can cook much more than hog roasts with them, so with our special attachments, you can spit-roast or barbecue, and the inside works just like a normal oven, so you can cook vegetables and potatoes there while your meat sizzles away at the same time. So, in order to get started with your very own, contact Hog Roast Yetminster today and we'll help you with your purchase.