In addition to selling our machine we also offer you the chance to hire a hog master for your next event. We offer a selection of different hog roast machines for hire, and our prices are very cost effective and competative. We can deliver anywhere in the UK and offer hire packages at daily, weekly and monthly rates. We can even source the meat, prepare it and then deliver it to you and the day of the event, taking all the hassle out of the day. With every one of our hire packages we offer a full set of instructions, how to guides, also tips and hints to make sure your hog roast is a success. Furthermore all our deliveries are done by a Hogmaster expert and upon delivery they can give you a demonstration on how best to use the machine. We also offer full support on the day of the event and if you have any questions we provide a dedicated contact number to call that is available 24 hours.
Cooking using a hog master machine couldn't be simpler. For most hog roast machine hire customers we would recommend using the hog roast kit. This will cook any size pig or other meat products perfectly with very minimal input. For more experienced customers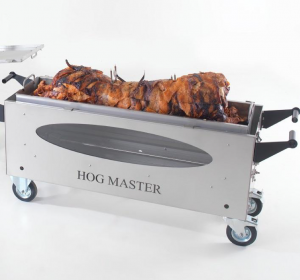 we can hire out the spit roast kit version which rotates on the pole.
We also hire out our Hog Master products on a hire purchase scheme. Here you can hire a machine out at a monthly rate and pay the machine off in instalments. On the final payment you take ownership of your very own Hog Master machine. With the hire purchase scheme there is no obligation to purchase and you can send the machine back at any time.
Support Throughout The Whole Process
So what can you expect when you hire a one of our machines? Here at Hogmaster we like to make the process as simple as possible so your event can run smoothly. This process begins from the very moment that you get in touch with us. Our office is open all year round Monday – Friday, 9am – 5pm with our assistants just waiting to take your call. Here we can give you more information on our different hire packages. There a large number of options, for example we have daily, weekly, weekend, and monthly rates and these can include adds on such as, meat options, gazebos, serving tables and cleaning packages. The possibilities truly are endless and there's nothing we won't do for our customers. It's also important to note that all our hires come with free delivery and collection service and we even include the gas required to cook on the machine.
All we require is a small deposit to secure the date of your hire. We can deliver and collect the machine at a time to suit you anywhere in UK. Upon arrival one of our hog master experts will show you how the machine works and take you through the process of cooking, carving and serving from the machine. We can even prepare the meat for you and get the machine going so all you have to do is sit back and relax and watch as your meat slowly roasts before your very eyes.
Couldn't Be Easier To Use
Our hog roasts machines are tailor made so that they can be used effectively even by beginners. The machine comes with a self ignition pilot light system and a temperature control gas tap meaning you have full control over the cooking process. Our hog master expert will give you a few tips on how to make the crackling extra crispy for your guests. The machines are effortless to use and once cooked the meat can be raised up into the service position. You can then carve and serve directly from the machine. Furthermore you can heat up the serving tray and keep your meat warm during the service.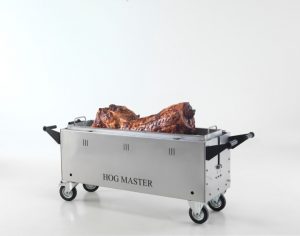 You'll be amazed at just how easy it is and the results you can achieve. So why not add something a little special to your next event whether it is a private party, corporate event or wedding a Hogmaster hire is sure to be a winner. Hog and spit roasts are growing in popularity year on year and there is something truly special about watching a hog slowly roast. It a completely unique way of cooking and it is guaranteed to delight and surprise at any event. It also not just pork that our machines can roast, they are completely versatile and can roast beef, chickens, lamb, turkeys even jacket potatoes. So the possibilities truly are endless. You can even roast more than one type of meat at once meaning you have the opportunity to offer your customer a selection on perfectly roasted meats.
Hiring a machine is also a great way to generate additional revenues for your business. Every year we hire our machines for public events such as festivals, markets, shows and events and it's amazing how much attention they create. There's nothing better than a hot juicy and tender pork roll with apple sauce and freshly prepared stuffing with a bit of crackling on the side. Also because we used to be and still are caterers we have perfected this business model over the years and can pass on the knowledge to you.
Try Before You Buy
Here at The Hogmaster we are so confident that you'll love our machine that we are offering a unique to the industry 'try before you buy offer.' It's so simple; you take a brand new Hogmaster of your choice delivered to your door next day and give it a try. At the end of the month if you can't bear to be parted we will deduct 50% of the hire from the purchase price, or if you're not completely satisfied send it back at only the hire cost.
So if you're thinking about hiring a hog or spit roast machine then look no further than the Hogmaster we guarantee 100% satisfaction. With weekly prices starting at £250 and monthly prices from £400 it's a fantastic opportunity to join in the hog roasting revolution.
To talk to someone about hiring a machine or to get more information just give us a call or fill in the enquiry form found on the contact us page.