It is that time of year when mobile event caterers are getting ready for a busy and rewarding period of catering for Christmas events. If you run your own mobile catering business and you are gearing up for a full-on Christmas catering calendar, the Hog Roast Brierley team have a great way to make your life a lot easier and help you to instil the festive cheer in everyone you feed by rustling up some great food for any number of people. Hog roasts are a brilliant option for large-scale event catering and a hot and hearty hog roast sandwich is the perfect winter warmer for festive events, not to mention being a very economical way of feeding a high volume of people without compromising on quality.
Obviously, to do the job properly, you need the right equipment and here at Hog Roast Brierley we can provide it. As well as being kept incredibly busy running the event catering side of our business, we also manufacture, sell and hire out our own market-leading hog roasters, with models available to suit all event catering needs.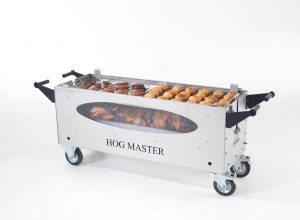 Even our larger machines can be easily fitted into a van, transported to and used in just about any outdoor setting. They don't require a mains power source as they are gas powered, making it the perfect piece of kit for catering outside in a venue where there are no kitchen facilitates. Depending on which model you opt for, our machines also come with a range of attachments, including our popular BBQ and spit roast options, enabling you to not only cook a vast amount of pork in one go, but also other meats and side dishes too.
We appreciate that investing in a new piece of catering equipment is a big decision, which is why we are happy to offer you a try before you buy option by hiring the machine of your choice on a short or long-term basis.
If you hire one of our superior hog roasters for the Christmas catering period, we're sure that you will realise just how much of an asset it would be to your business to own one yourself, so if you would like to give it a try, please get in touch with us here at Hog Roast Brierley to find out more!