While having someone else on hand to manage the cooking, serving and cleaning up at your event is a huge help, Hog Roast Sabden knows that sometimes, there's nothing better than having the freedom to do things at your own pace. If that sounds like something you'd be interested in, then you're going to love our hog roast for hire option!
Yes, unlike other catering providers out there, Hog Roast Sabden offers our customers and clients the opportunity to rent – or even buy – our professional equipment. Here's what you can expect from this service:
1) Complete Freedom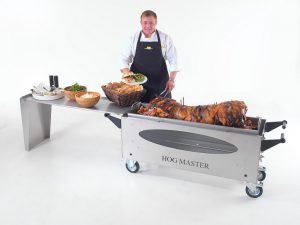 By renting one of our machines, you can decide what to serve, when to serve it and how you want it to look. Not only that, but you'll be able to experience the joys of hog roasting first-hand, which is a feeling you won't be able to forget anytime soon!
2) Top-Quality Equipment
Designed and manufactured right here in our own UK factory, using the highest quality materials available on the market, our industry-leading equipment is the crown jewel of the mobile hog roast catering sector, with clients and businesses all over the world keen to get their hands on it. Now, you can see what all the fuss is about for yourself!
3) Hassle-Free Cooking
The reason our machines are so popular is down to their user-friendly design. Despite being made from stainless steel, all of our machines are lightweight, compact and easy to move around. Not only that, but the settings make it so easy to produce stunning roasts time and time again – even if you're a novice!
4) More Than Just Hog Roasts
Our hog roasting machines were indeed designed to create the perfect hog roasts, but that's not all they can do. From grilling burgers and sizzling sausages to chargrilled veg and spit-roasting all types of meat and fish, the possibilities are limitless.
5) Delivered To Your Door
And finally: we'll deliver everything you need straight to your door (or chosen venue). From the machine and gas canisters to farm-fresh ingredients, dining furniture, gazebos and marquees, cutlery and crockery, plus so much more, Hog Roast Sabden will make sure you have everything you need to pull off your event. We'll even come and collect the whole lot the following day, and we'll take care of cleaning the equipment, so you don't have to!