When you're looking to buy hog roast equipment, you need to be sure of a high-quality machine that safely cooks the meat of your choice and it's an added bonus if it is also easy to use, easily manoeuvred and can cook much more than meat too. With a Hog Roast Bideford hog roasting machine, you get all of this and more.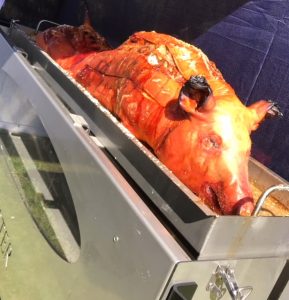 Our top-quality, CE-marked, stainless steel machines have been perfected over many years and we make them from scratch in our own factory in Lancashire. Hand-built using the finest materials and the latest technology, we made them to be so simple to operate (in basic terms, you set the temperature, turn it on and watch over your meat as it sizzles away) and the fact that they are lightweight, together with our copyright-protected steering mechanism, means you can easily move them so you can cook wherever you need. Not only this, but our hog roast machines are extremely versatile, as you can cook other food inside while your meat cooks above, so you could cook a complete meal in one go – vegetables and potatoes inside at the same time.
Our customers old and new are always welcome to come and visit us at our factory and showroom and you don't need to contact Hog Roast Bideford to arrange this as we welcome walk-ins. If you're able to, there are various benefits to popping in to see us, as you can talk to our experts about your particular needs (whether you're a professional caterer or a domestic cook), as well as learn all about our range of equipment, see a machine being handmade and then check out all of our new and used models on sale. We even stock other brands, as we want our customers to buy the one most suited to their wants and needs.
One of our long-term Hog Roast Bideford customers, Ben, a wedding and events caterer who specialises in hog and spit roasting, came to see us recently as he wanted to add another machine to his collection. By the end of his visit, he had bought two more instead and we know he'll be back for more in the future too.