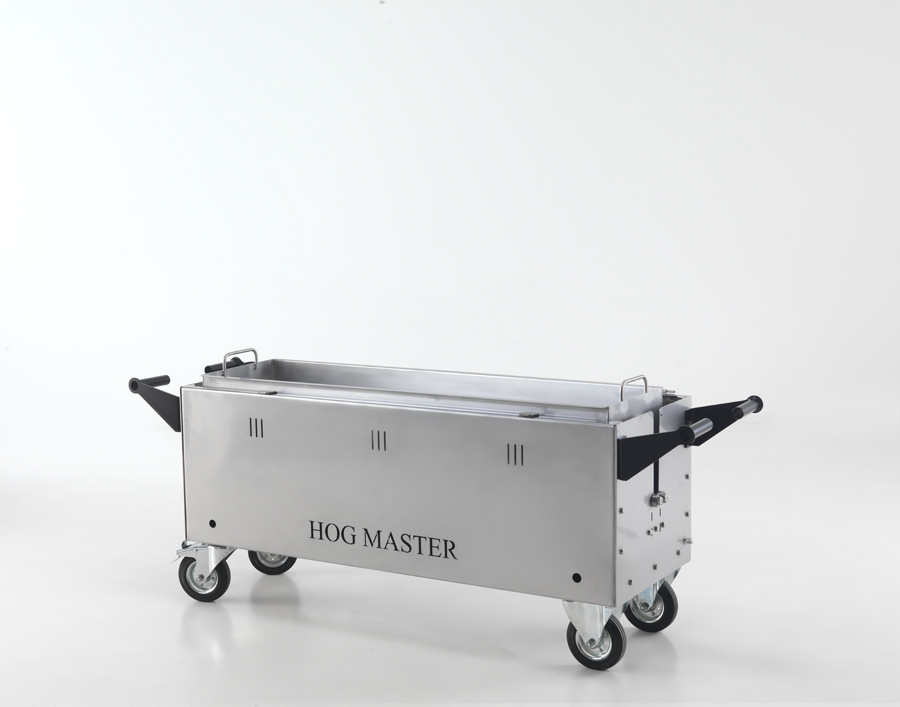 Maximum Versatility
Easy to Use
Increased Capacity
Easily our most versatile accessory, the hog roast kit offers the user endless possibilities with regard to cooking options. The hog roast kit essentially turns the machine into a big oven and therefore the machine can be used to cook anything including, chicken, pork, beef, lamb, jacket potatoes and also any combination of different meats. This means you can offer your guests or customers more choice at your event for example just from using one machine you could serve a customer pork, beef, a jacket potato and vegetables.
The machine is effortless to use which means it is great for hiring out to customers. The hog roast accessory kit has no weight limit and therefore this means to can cook greater qualities from the machine, great if you have a big event or you're selling to the public. Finally because the hog roast kit doesn't require a motor it means electrical power isn't required and therefore the machine become completely mobile meaning you can cook anywhere.
Equipment included:
1 x Hog Tray
2 x Hog Straps
Call us now on 0800 142 2449 or fill in the enquiry form on the contact us page to learn more about the hog roast kit for the Hog Master. As with all of our accessories we offer next day delivery in the UK and we offer full support with the purchase of any machine.
Our Hogmaster hog roast machine is our larger range of machine. You can buy a Hogmaster machine as a hog roast machine or a spit roast machine.
The most popular by far being the very easy to use hog roast machine as this one gives great results and super crispy crackling.
The Hogmaster machine will cook a pig up to eighty kilos and two legs of pork at the same time, which is ample to feed up to three hundred people into rolls and is most popular for social gatherings such as birthday parties, christenings etc;
People who buy a Hogmaster machine tend to favour the hog roast because they are usually busy with other things on the day and they would rather have the peace of mind that the machine is doing its job of cooking the pig without any worries, and that's exactly what the hog roast machine is all about, its effortless, it's just like using an oven only on a larger scale, you literally sit the pig inside the machine, scour it, rub some salt on for the crackling and turn the machine on, the machine takes care of everything else, giving you the peace of mind that your catering is taken care of and six hours later your left with a pig cooked to perfection, they don't want to have to worry about putting the pig on the pole or keeping an eye on the pig to make sure everything is as it should be, The Hogmaster machine is easily moved by one person and can be used indoors providing it is in a well ventilated space, so if you intend to hold your function in a village hall or a marquee or even at home it is the perfect choice.
The Hogmaster machines are built not just to cook pigs; you can cook lambs, chickens, joints of different meats, turkeys at Christmas, even jacket potatoes. So in conclusion, whatever your event is for, whether it's a memorable occasion such as a christening or a wedding or even a birthday party, to buy a Hogmaster machine is a cost effective, unbelievably easy way to feed your guests whilst at the same time being entertaining.