It's fair to say that we can all appreciate the great outdoors at the moment and we are lucky to live where we do, surrounded by beautiful scenery and local nature walks. Most of us have been making the most of the scenery recently, and enjoying the sunshine especially too! It's been the hottest May on record! It's no wonder that James was inspired by the weather to plan a family BBQ with the help of Hog Roast Smarden. He has been recently having BBQ's quite a lot over the last few months which his household have been loving. Becoming quite the expert with a BBQ and now with the opportunity to have his close family and friends around, James decided to up his game and have the Hog Roast Smarden equipment to help him.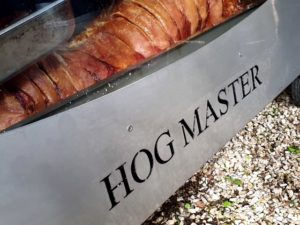 James wanted to treat his family that he hasn't seen for a long time, show off his new skill and enjoy some delicious food together in the lovely weather. Our Catering Manager dropped off the machine with James early morning and assisted getting the machine started. After a quick demo James was left confident in producing a perfectly cooked pig with amazing mouth-watering crispy crackling! His family were expecting one of his usual BBQ's but as the arrived and saw a pig cooking away in the garden they were astounded and James, proud as punch! The timings were followed exactly and to no surprise the pork was cooked to perfection.
Astounded faces surrounded James as he began to pull off pieces of crispy crackling and hand them to the guests and he told our team that he felt like a professional chef! The whole family were so impressed at his efforts and his wife was very proud, and once again relieved that she wasn't cooking! The next morning our Hog Roast Smarden representative returned to collect the machine and hear all about the afternoon. James confirmed that he will definitely be hiring the machine again and hopefully next time he will be able to cater for even more guests! With Hog Roast Smarden equipment it's perfect for professional and domestic use!