10 years ago I decided to make a change, I had gained a vast array of knowledge and experience from working within the mobile catering industry and I was keen to put it to the test. I started a small hog roast catering business that I ran from home in addition to my regular job. I started locally and concentrated on the fundamentals, great traditional food cooked fresh on site in front of the customer. My clients loved it, the smell, the taste and of course the crackling, a couple of successful summers and my part time hobby had become my full time job.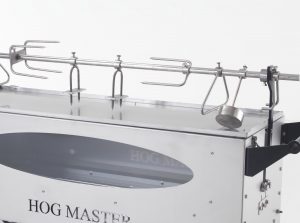 I had always purchased my hog and spit roast equipment, but was frustrated with its limitations and I often had to make so many adjustments to it, it was rendered unrecognisable. It was one day when my spit roast machine caused my all sorts of hassle that I made the choice to build my own. This was a huge project that I only initially planned for myself. However during the design stage I realised we had something special that there was a real demand for in the market, a reliable, affordable hog roast machine that produced great results. So after a full year of design, development and testing we have the finished result the Hog Master and a full range of accessories.
As I look back I am amazed at how much the business has grown, we now have factory dedicated to producing and storing our range meaning our machines and parts all in full stock all year round. We sell our machines all over the world and yet we still stand by our original values to give the customer a product that produces exceptional results and to provide a service to support them.
Here at hogroastmachines.co.uk we are constantly looking towards the future and as the business grows our plans get more adventurous. We are currently working on a new range of hog and spit roast machines and new accessories. We are fine tuning our product and service all the time and we are confident that we can't be matched. We are also increasing our online presence and now can offer a full range of resources, how to videos, hints and tips on our website which makes it easier for all our customers. In the future we are looking towards expanding our operations into Europe and keeping the Hog Master as an industry leader in hog and spit roast machinery. Keep up to date with any new happenings of hogroastmachines.co.uk by looking at our online blog.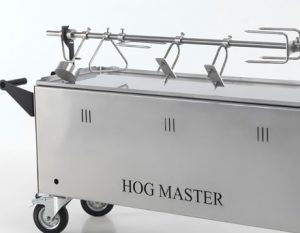 We know that for most customers the purchase of a hog roast machine often represents a significant investment and sometimes a new commercial venture and therefore you need to be certain that the product you're buying will be of the highest quality. With so many different companies offering a variety of machines it can be difficult to find the right machine for you by just looking at company websites. That where we at Hogmaster are different. We are proud of the fact that all of our products are UK designed and manufactured and we offer every customer the opportunity to come and take a look at our dedicated factory and see the machines being built. Here you can watch the process from start to finish and see that we really are serious about hog roasting. We also have a showroom and one of our sales team will be more than happy to talk you through and physically show you how our machines work. You can get to know how we work as a company and it's a great chance to ask us any questions you may have from how the machines work to starting your own business.
Over the years we have built up an extensive range of customers all over the world and we believe it's because of the after sales support we offer. Here at Hogmaster we don't just sell a product we sell a complete service and experience and that why our customers over the years have been so successful. From hotels, restaurants, pubs, private users and mobile caterers it's great to see that our customer's machines are working hard year on year and helping their respective businesses grow. We believe this success is in part down to the service we offer; here at Hogmaster we have a number of different resources available to our customers to ensure that their new purchases are a success.
As standard all of our products come with a complete instructional manual with information regarding assembly, preparation, cooking, serving and lots of hints and tips. Also the websites hosts a wide variety of information on topics such as maintenance issues, cleaning your machine, setting up a hog roast business and lots more. This is supported by our YouTube channel which holds lots of videos showing how to use the machine and some of the fantastic events we have attended and catered at. Furthermore we have a team of dedicate experts available on the phone who can give advice from topics such as spit roasting, to business insurance and working on an event. We also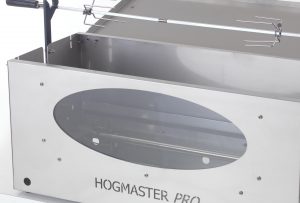 offer training packages whereby one of our Hogmaster chefs will work on a live event with you. Here you will learn every aspect of working on an event from interacting with customers, using the machines, tidying away and all the paper work that is required. In short it's the perfect way to become a successful hog roast caterer.
Here at Hogmaster we are constantly looking towards the future and we believe that through supporting our customers we will all be able to grow together and by offering fantastic equipment this means you can then offer an exceptional catering service. We have come a long way from our humble beginnings but we are more determined than ever. Every year we are looking to build new and existing product and still stick to our price promise to be the most affordable in the market. So now that you've gotten to know a little bit more about us why don't you give us a call or fill in the contact us form. One of our sales team will be more than happy to discuss the different options and which would be most suited to your needs. We can also send over a brochure and price list should you need any further information.