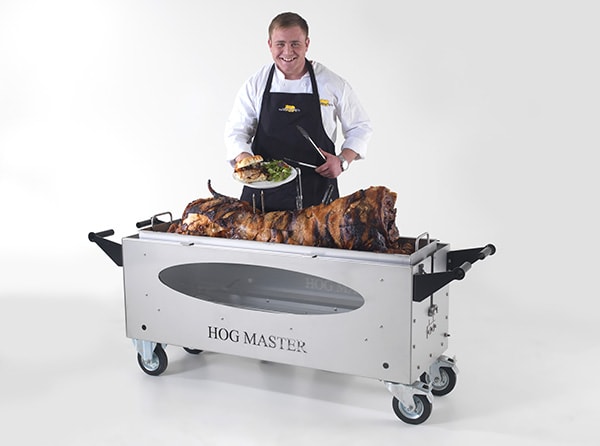 Specifications
Length – 180cm (160cm with handles removed)
Width – 57cm
Height – 70cm
Weight – 90 kilos
Cooks up to 75 kilo Pig (85 kilo with head removed)
Cooking time of 1 hour for every 10 kilos of Pig
The Hogmaster fits in to a range of vans and estate cars
Hog Roast Machine
This landmark machine takes the affordability of the Hogmaster and gives you the visual aspects usually only available on more expensive units. Not to be underestimated by its low price – this machine is and continues to be the number one choice for caterers. Now with the addition of the glass panel – this formidable machine allows your guests and clients to interact with both the product and the process. But due to the Hogmaster's advanced design costs almost half as much of many of its competitors whilst delivering a fantastic product time after time.
This really is the easiest hog roast machine available to use. Many of our customers have initially bought another more expensive and harder to use machine, they have then used the Hogmaster and have quickly become converts. If in doubt hire the machine for a week or a month and try it for yourself and join the many 100's of happy Hogmaster customers.
Spit Roast
Underlining the versatility of this machine is its ability to spit roast beautifully. You can spit roast pigs, lambs, beef etc – all in full view of you and your guests. The Hogmaster is without doubt the easiest machine to use for sale today. It really will help you produce the perfect pig every time.
Hog Roast Machine & BBQ
Devastatingly effective for use as a standalone barbecue or use the BBQ attachment to cook other items of food whilst your pig is cooking below. Simply place your pig in the machine then put the BBQ plate on top and then load up with a selection of other food items, potatoes, chickens, sausages the only limit is your imagination. Increase your catering capability and optimise your capacity to be as profitable as you can be. As  BBQ because the burner is lower than the BBQ late the food cooks quickly and gives that great flame grilled flavour but doesn't burn.
Compact, Lightweight, Tough and Durable
This amazing machine is unbelievably portable, because of its light weight design and with its 4 strong handles you can pick it up and carry it effortlessly, this means you can fit it into the most unaccessable and difficult of places. I have used this machine on balconies in Central London, carried it through town houses with no garden gate to enable a hog roast in their garden. I have even done a hog roast via boat on a small island off Anglesey whilst the tide was out. It really is a go anywhere machine. Check out our competitors is this possible with their machines? Will it fit into a Transit Connect, Peugeot Partner etc. a 4 x 4, Volvo or Mercedes estate, ours will. Can you pick it up or easily push it up ramps into the back of a transit van etc. You can with a Hogmaster. You can get 2 Hogmasters side by side in a Landcruiser Amazon.
Perfectly Balanced Design
From start to finish we have it covered, from loading into a car 4×4 or van, to arriving at the venue and manoeuvring through the village hall, garden gates, through to being big enough to cook an 85 kilo pig. The hogmaster is without question the most manoeuvrable and versatile machine getting you where you need to be. Compare this to our competitors who have not got our onsite experience, their machines were not built with this in the brief, the dimensions speak for themselves. The Hogmaster once again showing that it is the number one most practical machine on the market. Made for caterers by caterers.