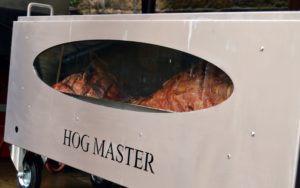 There is something fun, sociable and unique about cooking and eating outdoors, but it can come with certain practical issues, depending on where you are catering, what you are cooking and the level of facilities onsite. If you would love the freedom to cooked outdoors at a venue off the beaten track without being limited by logistics, hiring a Hog Roast Machine will help you to make it happen!
Hogs have been spit roasted outdoors for centuries and besides being an absolutely delicious way of cooking meat, it has endured through time as a cooking method because it can be done in so many different settings. Back in the day, it would have been done using a simple framework with a spit on it over an open fire. Today, we have come on a lot since then, to the point where Hog Roast Machines are fortunate enough to have the most advanced hog roast catering equipment available on the market. We can transport our machines to any outdoor location and cook up to two whole hogs in one go using just one machine. Our hog roasters are also designed with versatility in mind, and we have added a range of extra features such as the BBQ and rotisserie attachments to enable you to cook other joints of meat, whole chickens, sizzling sausages and hot side dishes all at the same time.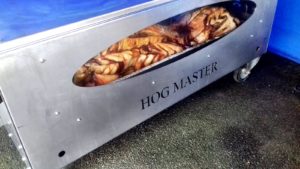 Wherever your outdoor catering ambitions and abilities lie, we will match you with a machine that fits the bill so you can cook the type and volume of hot food that you want for your al fresco feast. As our machines are gas powered, you don't have to be restricted to hosting it somewhere with an onsite power source either, leaving you free to cook up a storm in the rural retreat of your choice. Whether you have used a hog roaster before or it is totally new to you, our delivery team will make sure you are completely happy with operating it yourself before we leave you to it.
You can fulfil your outdoor catering ambitions by hiring a flexible, reliable and robust Hog Roast Machine!