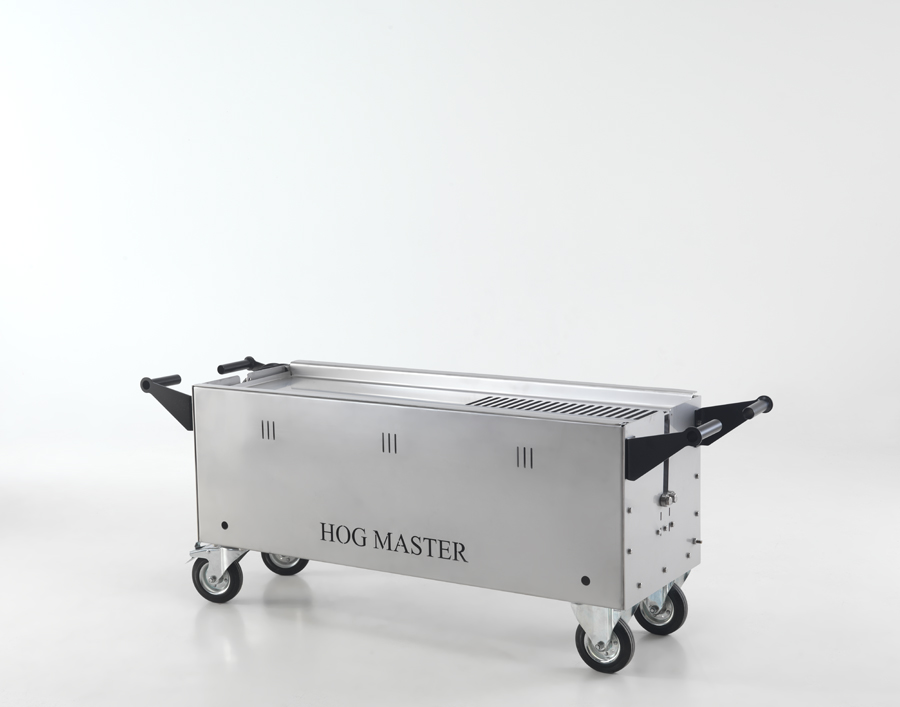 Our newest accessory the BBQ set is placed on top of the machine and the burner below is used to heat the solid and fluted surface upon which a fantastic BBQ can be cooked. It's perfect for cooking sausages, burgers, fish, kebabs, steaks and even more. The BBQ set can be used in addition to the spit roast or chicken spit kit and therefore once the pig is cooked and placed into the service position the BBQ set can then be added to continue cooking whilst still acting as a service platform.
Hire
In addition to selling our machine we also offer you the chance to hire a hog master for your next event. We offer a number of different packages starting from as low as £195.00. We can deliver anywhere in the UK and offer hire packages at daily, weekly and monthly rates. We can even source the meat, prepare it and then deliver it to you and the day of the event, taking all the hassle out of the day. With every one of our hire packages we offer a full set of instructions, how to guides and tips and hints to make sure your hog roast is a success. Furthermore all our deliveries are done by a Hog Master expert and therefore they can give you a demonstration on how best to use the machine when they arrive. We also offer full support on the day of the event and if you have any questions we provide a dedicated contact number to call that is available 24 hours.
Cooking using a hog master machine couldn't be simpler. For most hire customers we would recommend using the hog roast kit. This will cook any size pig or other meat products perfectly with very minimal input. For more experienced customers we can hire out the spit roast kit version which rotates on the pole.
We also hire out our Hog Master products on a hire purchase scheme. Here you can hire a machine out at a monthly rate and pay the machine off in instalments. On the final payment you take ownership of your very own Hog Master machine. With the hire purchase scheme there is no obligation to purchase and you can send the machine back at any time.
So if whether your interested in hiring a machine for your next event or you want an affordable way to start you own hog roasting operations then give us a call today or fill in the enquiry form on the contact us page.