We can't deny that barbeques are a great source of fun and have definitely become a core part of British summertime culture! But the truth is, if you're looking for something with a lot more versatility and durability, then hog roasting grills are where it's at. More specifically, Hog Roast Pendle's hog roasting grills, which are marketed all over the globe to large corporations, small businesses and even private buyers.
Yes, contrary to what you may have previously believed, hog roasts are, in fact, a suitable replacement for the traditional BBQ, and they are a fantastic investment in the long run too. Here's why:
Be The Host With The Most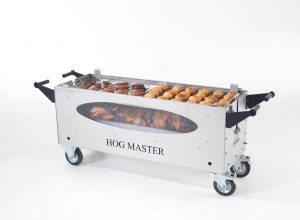 Let's start with the obvious, shall we? By purchasing your very own grill or spit-roasting machine from Hog Roast Pendle, you will never again have to worry or stress about what to cook for the guests at your party. Because, despite their name, our machines can be used to cook everything from traditional pulled pork to beef burgers and everything in between – even fish. They can also be used to grill vegetables or create enticing side dishes too. The choices really are limitless.
Laid-Back Cooking
As well as being able to cook everything and anything, our devices make light work of fixing up large feasts, and unlike traditional BBQ's or your kitchen oven, you won't need to stand guard over the grill all day. As the host, you deserve to enjoy your party, so Hog Roast Pendle has made sure that our machines are a breeze to use.
Indoor and Outdoor Dining
Let's face it, summer in the UK only ever lasts a couple of months, max. Besides that, it's either cold, grey, rainy, windy, snowy – or a bizarre combination of all of the above. But here's the good news: our machines can be used indoors too (as long as there is enough ventilation!), so you are guaranteed to get your money's worth.
Kickstart Your Own Business
Naturally, we've saved the best for last. If hog roasting becomes a new passion of yours (and we're quietly confident it will), then why not kickstart your own business? Hog Roast Pendle can help you get on your feet with a franchise if you're keen to start a new career!