If you're a professional caterer who's been thinking of adding hog roasting to your repertoire, Hog Roast Newton Abbott can help you in more ways than just one. You may prefer to try out this amazing way of cooking, if you've never experienced it before, and we hire out equipment and show you just how easy it is to DIY, whether at home or in a particular venue, as our machines are lightweight and easily manoeuvred. They also run on gas, so you can cook in the middle of nowhere if your heart so desires, as you don't need mains electric to use them.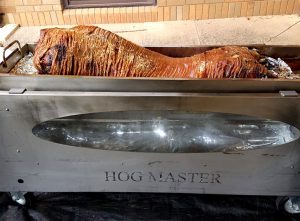 Nevertheless, you may prefer to buy your own hog roast machine, and our Hog Roast Newton Abbott team can guide you with choosing the right one for your needs – whether that's one of our own range or a different brand instead, as we want you to have the one best suited to you. We have several of our own hog roasters, including beasts of machines with huge capabilities and smaller ones that cook just as beautifully, and we sell both new and used models.
There's no need to worry if you're purchasing used equipment from us, as you'll still be getting an excellent machine that comes newly serviced and will have both a 12-month warranty and a 12-month gas check certificate. We also offer our customers the possibility of a trade-in, if you later decide you'd like a newer machine or one with different advantages to your current model, and you always get the same first-rate service from Hog Roast Newton Abbott, regardless of whether you buy a new or pre-owned machine.
We also often sell our new and used equipment to domestic cooks, who have realised that using a hog roast machine at home to cook all sorts of food (and not just sumptuous hog roasts) can save time, money and effort. You can cook an entire meal in one go with one, for example, as you roast the meat above while the potatoes and vegetables cook away inside.
Call our experts today to discuss your needs and we'll help you to choose the best machine. You won't regret it!