If you're thinking about owning your very own hog roast machine, so you can cook in this amazing way for your own customers just like Hog Roast Chesterfield do, you're more than welcome to visit our showroom and factory to view our products and talk to our experts about your particular needs. We're based in Lancashire, where you can have a tour of our factory to see how we make our own machines by hand (and they're the machines we designed ourselves) and discuss what you're looking for, whether that's a brand new or second hand machine of ours or one made by another company, in case it's better for your requirements.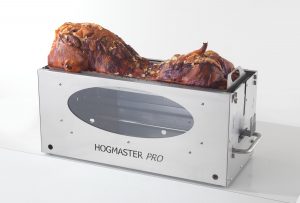 There's no need to book your showroom or factory visit with Hog Roast Chesterfield, as walk-ins are always available, and that's not just for other caterers either; you're also welcome if you're a domestic cook yourself who's imagining having your own machine to use at home, as you've seen that they're economical and you can cook an entire meal in one go with one of ours (as the inside works just like a conventional oven). All of our roasters are lightweight, tough, durable and easy to use, so you can easily transport them if needed, they last a long time and you can learn how to use them in no time at all. Once you've prepared your choice of meat, you simply set the temperature, turn it on and then watch over it as it sizzles away.
One thing that often surprises our new customers is that you don't just have to cook hogs with our hog roasting machines! We have attachments so that you can spit-roast all kinds of meat too, like chicken, turkey, beef or lamb, and there are also barbecue attachments too. Our equipment is so incredibly versatile, which is a great bonus for caterers in particular, as you get to use one fantastic machine to cook all sorts of food that your customers love.
Contact Hog Roast Chesterfield today or simply show up at our showroom and factory and our professionals will help you with your hog roast machine purchase. We know you won't regret it!