The Hog Roast Salford team were off to a chilly start on Monday morning after waking up to powdery flurries of snow, that with each moment, threatened to deepen the crisp blanket, which was already laying thick on the ground after a full night of heavy snowfall. With the sun peeping through the branches of the trees, and the birds chirping enthusiastically in the background, it had all the makings of a perfect morning.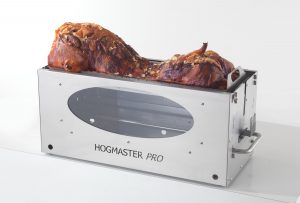 In anticipation for the busy workday ahead, catering manager, Mark had risen extra early that day, and, after de-icing the windshield and dusting off the snow from our reliable catering unit, he set out to begin the weeks' toils.
Following a quick stop off at Hog Roast Salford HQ, where, with the help of another team member, Mark promptly loaded the van up with one of our top-of-the-range cooking machines, utensils and fresh meat and veg, he got back on the road to begin his long journey. The destination, this time around took Mark outside of our usual boundary lines, where client, Steve, was waiting eagerly to receive one of our impressive Hogmaster Glass machines.
Fortunately, the snow didn't add too much time to the trip, and Mark was able to make the journey in record time, and his excellent time-keeping made the client very happy!
Food-lover, Steve, who had been saving up to make this purchase since last year, after he had watched us use one at his daughter's wedding, was all-too-happy to splurge on the Hogmaster Glass, which is by far, one of our most popular and impressive machines. Featuring a glass window, this outstanding piece of equipment presents a mesmerising view of your food as it cooks, but that's not all it offers. The removable lid can be used as a serving table, and with BBQ accessories, it can whip up a traditional BBQ, making it one of our most versatile machines.
Steve was immediately impressed with his purchase, and he's already thinking ahead to how he's going to make the summer months better, thanks to his new favourite toy from Hog Roast Salford.