Wanting to buy a Hog Master machine or Hog Master Glass? If the fact that they are completely easy and effortless to use won't persuade you enough, then perhaps their ability to turn into a range of cooking ovens will make your mind up.
A popular attachment for these machines is the BBQ tray. The BBQ tray lays at the top of the machine. The BBQ tray can be used simply as a cooking plate for a BBQ or, it can be used to cook off food above your slowly roasting pig below. The lid does shut with the BBQ tray in place, perfect for roasting potatoes for example.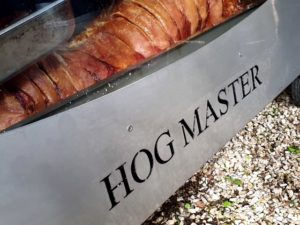 Even though these machines are perfect for making a delicious hog roast, you can purchase spit kit attachments to spit roast the pig. Depending on what you require, depends on which equipment you purchase. Generally, the spit kit will include the pole and the equipment parts to steady the pig, the motor system to make the pig turn and the carving tray. The best thing about having a spit as an option is the theatre it provides for the customer and their guests.
The lid of these machines can be turned into a stainless steel serving table. You can purchase a table support which makes the lid into a table. It is ideal for putting any accompanying dishes, sauces, or rolls. Rather than having to purchase separate serving tables, you just need to buy this support which takes up less room than a serving table would in your mode of transport.
The final attachment is the chicken rotisserie. It can cook 36 chickens at once but is rather versatile as it can also cook joints of meat and even a suckling pig. Easy to assemble and again provides a theatre aspect for the customer and their guests.
Alone, the Hog Master and Hog Master Glass are great machines, with any of these attachments they become amazing, giving you and your clients more options.
If you struggle with the assembly of any of these attachments or using the machines, Spitting Pig has a YouTube channel that talks you through everything you need to do.