When you're thinking of buying your own hog roast machine, it may surprise you to know that Hog Roast Bridlington can help you to decide which of our own brand or those of others can be the best decision for you. We're so much more than hog roast caterers, as we provide plenty of choice and variety with other dishes, hire out our equipment so that customers can DIY and train budding chefs to cook just like us too, but we also make our own hog roasters by hand in our Lancashire factory and have a showroom for our new and used models, as well as ones made by other companies too.
Whether you're a pro chef or a domestic cook, a hog roast machine is an excellent tool for easily cooking not only what you expect (traditional hog roasts to die for) but much more too, as with ours, we offer attachments so you can spit-roast and barbecue meat. Additionally, we designed these durable machines to work like conventional ovens, so while the meat's sizzling away atop, you can cook the rest of an entire meal inside, like various seasonal vegetables and potatoes, or you could even use it to cook a pizza or two if you so desire!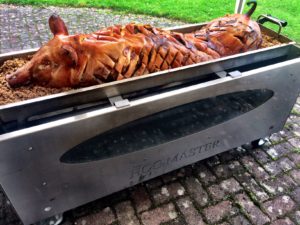 Hog Roast Bridlington can help you to decide which of our models is best for your wants and needs, whether you want to buy one for home use or for your own catering services. They each have their own advantages, like our beast the Platinum, which can cook two hogs at the same time as four legs of pork and a couple of hundred jacket potatoes, or our best-selling Titan, which offers you such a simple way to cook a whole pig and works as a hog roasting oven, a spit roasting oven and a combination oven. What more could you need?
You don't need to contact Hog Roast Bridlington in order to visit our factory or showroom, as we welcome walk-in visits (when lockdown rules allow it of course), so what are you waiting for? Visit us today and our experts will help you get ahead with the purchase of your own hog roaster.