Buying new equipment for your catering business is not a decision you should take lightly and of course, you will be looking for the best possible product for the best possible price. If you are seeking great value for money but you don't want to accept second best when it comes to the condition of the equipment, buying a reconditioned hog roaster is the way to go. Hog Roast Machines are the leading experts in all matters related to the design, manufacture, and sale of hog roast machines. As well as making brand new ones that have been constructed right here in our UK workshop, we also fully service and recondition used hog roasters and ensure that they are as good as new before resale.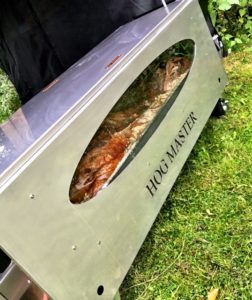 This is the ideal solution for first time hog roast machine buyers and if you do go for this option, you can be assured that the machine you buy won't even feel like be has been used before. We give all  the machines that come through our workshop a full inspection and overhaul, handling any maintenance and repairs that is required, giving all the machine's components a deep clean and putting it all back together again so it looks shiny, functions perfectly and is for all intents and purposes, as good as new! This completely removes any risk for you as the buyer because you won't have to worry that buying a pre-owned machine that has seen better days may come with hidden faults and lead to a costly repair job. We will make sure that every part is functioning smoothly and the machine will be just as reliable and durable as it was when it was brand new.
As extra assurance for you,  each second hand Hog Roast machine we sell comes with the same length of warranty as our brand new machines, and we will also undertake an annual service of your hog roaster after you have bought it, to ensure it continues to operate in tip-top condition.
Contact us here at Hog Roast Machine to find out more about our second hand hog  roasters and to see what we currently have available to buy.