Hog Roast Stroud is a well-known provider of hog and spit roast catering, both locally and further afield, but what you may not know is that we're also known for much more too. In addition, we cater with all kinds of other food, hire out hog roast machines so that you can DIY, train others to cater just like us and we even sell our own range of equipment too, which we designed ourselves and which we make by hand in our factory in Lancashire.
The hog roasters that Hog Roast Stroud hire out are our own brand and whether you're a pro chef or a domestic god or goddess, we also give you the option to be able to buy one for yourself, instead of occasionally renting, in order to cook in this way whenever and wherever you like.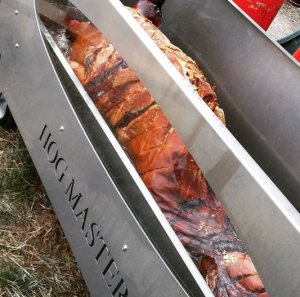 Using a hog roast machine to cook all kinds of food (not just hog and spit roasts but also barbecues and anything that you would normally cook inside a home oven) has several advantages, including often being cheaper and easier than using other equipment, as well as being ultra-portable and easy to move around. If you're a caterer roasting a hog for a large event, for example, the meat will go a very long way to feed many guests and you have the option to cook all sorts of other delicious ingredients inside too, like seasonal vegetables and potatoes, so you can use one of our machines to cook an entire meal in one go if needed.
In our showroom, we have various new and used models for sale and this also includes ones made by other companies. While we would love you to experience the ease of use and great tastes produced by one of our own, if another brand is better for your needs then we'll always recommend that instead. Plus if you purchase a used machine, rest assured that you're still buying an excellent machine that comes newly-serviced and with 12-month warranty and a 12-month gas check certificate.
Call Hog Roast Stroud and let us help you buy the hog roast machine of your dreams today!