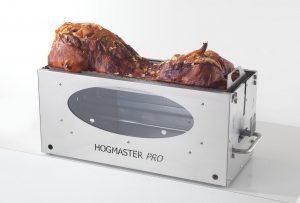 Our Hogmaster Pro is becoming more and more popular in the hospitality world, especially for a number of hotels and some very successful pubs across the UK. One of our regular hire clients runs a fantastic hotel based in Preston, Lancashire. He often contacts us to hire the Hogmaster Pro in particular for his hotel promotions. George runs regular events and one in particular, the open dinner event, tickets are always sold out! The hotel is very prestigious and usually only allows hotel guests to dine there, apart from on his open dinner events. The Hogmaster Pro is the perfect sized machine for feeding George's dinner guests, he puts on a 3 course menu with 2 options for each course and with a hog roast for a main it's a very popular choice. The starters are served while the hog roast is very close to being perfectly cooked! George always comments on the beautiful smell that fills the room while the guests are waiting for the hog to be served.
The guests who attend Georges open dinner events are always regulars and not always the most local guests, but this is a very famous night in Preston and George always tells us that it is the hog roast that makes the event even more successful. 'People in Preston can't get enough of a tasty hog roast!'
If you own a successful hotel, restaurant or pub why not try our hog roast machine hire? With machines suited for any style and size of event it's a fantastic way of generating more revenue for your business and really making your business stand out from the crowd.
Don't be shy of trying something new, George has never looked back since his first hog roast hire event.