My siblings and I had agreed to plan an extra special gathering for our parent's 30th anniversary in late February. I took charge of making the catering arrangements and regretted this decision almost immediately when coming to terms with how fussy and awkward my family can be when it comes to food. The three of us thought that a selection of hot food would be best to warm everyone up on the inevitably cold winter's day, however, this is about the only thing we agreed on. I was venting this frustration to a colleague of mine when she suggested a rustic barbecue style buffet, because who doesn't love a fresh bread roll full of hot meat? I glanced out of the window at the heavy rain and gale force winds and turned back with a smirk on my face. She assured me that she wasn't crazy and that this was definitely possible as she had attended an autumn wedding with an indoor spit roast.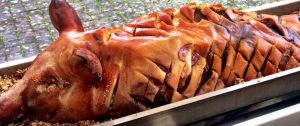 After a quick internet search I found Hog Roast Machines and gave them a call, initially quite sceptical. The lady I spoke to confirmed we could hire a machine to use indoors in a well ventilated area. She advised that as well as providing the catering equipment they can also include a pig for us to roast on the day from one of their approved suppliers. Imagining the look on my dad's face when he saw the whole hog I knew I had to book. We confirmed a date and time for delivery and suddenly the day couldn't come soon enough, I was so excited like a kid waiting for Christmas.
When the day finally came the gentlemen who delivered the machine helped to carry it in and waited patiently whilst I decided on the best position for it. It was beautifully shiny and looked very professional. I got a detailed tutorial on how to use the Hog Master and was even offered further help whilst cooking but I knew Dad would be taking the reins as soon as he saw it. As expected, when everyone arrived the Hog Master became the focal point with the majority of the guests gathering round to take pictures of the perfect pig.  I am so impressed that I found a catering solution that really made the whole day memorable and there is no doubt that we will be hiring again in the future!