Our Hogmaster Pro is a fantastic combi-machine that can easily cook you a gorgeous hog roast or spit roast, a delicious barbecue or even a fabulous pizza. While it is a smaller version of the Hogmaster, it still incorporates many of its features and we designed and manufactured this addition to our range with versatility in mind, which means if you purchase or rent this table-top size machine, you can use it at home or on the go. It's highly portable, so ideal for use in pretty much any indoor or outdoor location, which is often invaluable to caterers, and of course, this includes ourselves, when we cater events and parties all over the country.
One of our customers in Kent recently catered for 80 guests at an event in Sevenoaks, using the Hogmaster Pro to provide a stunning array of meat, as well as some additional food. After arriving on-site nice and early at 5 p.m. with an 8 p.m. service in mind, Head Chef Ben and Viv set up the gazebo and serving station, ready to prep all the fresh food. They had been asked to serve a BBQ menu, so Ben used the barbecue attachments on the machine to cook fresh butchers' sausages, British beefburgers, barbecued ribs and Thai chicken kebabs, which all went down a storm.
The lid of the machine can be used as a carving tray for hog or spit roasts but for this event, it came in handy as a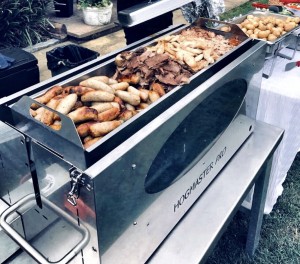 giant serving tray for all the lovely cuts of meat.
You may be surprised to know that we can even use the Hogmaster Pro to cook vegetables and potatoes, and for this event, that was hand-cut spicy wedges and new potatoes and we also served a variety of freshly-made salads. We weren't kidding when we said this particular machine is versatile! So thank you Ben for sending in such a great photo and lovely feedback.
Whether you're thinking of hiring us to cater a special occasion or you fancy hiring this excellent piece of equipment for a DIY, or even if you're thinking of purchasing your very own Hogmaster Pro, you'll find many reasons as to why it's the ideal machine for much more than just a hog roast.