We had a great time showing local businesses around our factory and showroom recently and thought we should let you know that you're all invited, too! We're proud of what we do, and that includes designing and manufacturing our own fantastic equipment right here in the UK. We're the largest manufacturer of hog and spit roast equipment in this country, including our best-selling stainless steel Hogmaster, Hogmaster Glass and Hogmaster Pro, hog roasting machines. We welcome both professional and domestic caterers to our factory to not only see the finished products but to also see the machines being made. You can also see the high standards that we adhere to when it comes to using the best materials and complying with the highest safety levels in order to get CE certification.
One of the businessmen who visited our factory yesterday is Mark Lawson, a wedding caterer who seemed amazed at our commitment to quality and how dedicated we are to our products. We think that quality items mean happy customers and repeat business and we believe in our roasting machines because they really are the best. We've been making our award-winning products for more than 25 years now, supplying many businesses such as mobile caterers, pubs and restaurants, as well as private clients.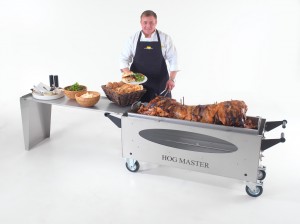 Mark watched us weld and assemble a typical machine as he toured our factory and commented on how sleek and well-made everything was. Each comes with its own instruction manual so you can refer back to it, but we are on hand to answer any questions you may have, too. Whether you're buying a machine for your own use or to cater for a huge wedding party like Mark, we can talk you through how to use it. We actually cater for many events ourselves, so we can answer just about any question you may have.
Mark was so happy with the way we conduct business and so impressed with our products that he bought two Hogmaster Hogs with glass and bbq's. They are the ultimate in hog roast machinery and we know he will be more than satisfied with them.
Make an appointment today to visit our factory. If you can't make it to the site, you can also shop online with us and we ship our products worldwide, too. Wherever you are in the world, you can buy the best and have it delivered from our Lancashire base.