We showed a new customer, Terry, around our factory and showroom in the north of England today after he read our blog online and couldn't believe just how adaptable a hog roast machine is. As well as roasting pig, you can cook so much more with one of our machines. The name 'hog roast machine' is rather deceptive really, as you can actually use our equipment to spit roast a chicken, turkey or joint of lamb, for instance, using attachments and add-ons that we can provide. You can barbecue meat instead of roasting and bake lots of potatoes, as well as cook other kinds of potatoes and different types of vegetables in the tray underneath. You could be cooking the latter in the lower part of the machine at the same time as cooking the meat at the top, meaning you can easily cook an entire meal in one go.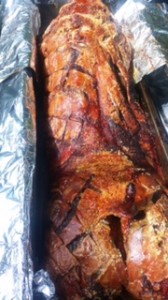 Terry was amazed by all this information and asked to have a look around the different machines as he was thinking of buying one to use at home. We have several different hog roasting machines, including large machines that are used by professional caterers and smaller ones that are too but are also often favoured by home users. While Terry was touring our factory, he could see some of our machines being manufactured in front of him. We designed and make and sell our own Hogmaster and Hogmaster Pro hog roast machines and sell them both online and in our showroom.
Terry noticed that you can use one of our machines with a stand or you can purchase one with a steering mechanism if you need to move it around. A mobile machine is excellent for caterers especially, as one person can easily move a machine from one place to another and manoeuvre it around different places such as gardens and parks. Terry said he wouldn't be moving his, as he would only be using it at home and it would stay in one place, so it would be cheaper for him to get a machine with a stand. He went home full of more information to digest and to talk about the purchase with his wife. We look forward to seeing him again soon.