We have just had some feedback from yet another happy Hogmaster buyer, who was so impressed with the machine after hiring it for an event, that she decided to take the plunge and invest in one herself! Karen and her husband Alan run a local farm, and over the past few years they have opened their doors to the public with the creation of a petty zoo, farm shop and café. They had always been a fan of hog roasts, as they thought this was the best way of showing off the quality of their own pork and they had occasionally hired machines for various events. The machines they had hired in the past though, were not quite good enough to convince them to buy one themselves, but that all changed when they were introduced to our top of the range Hogmaster! Understandably, many customers decide to try before they buy, and Karen and Alan were no exception, especially after being unconvinced by previous hog roast machines they had tried. But on this occasion, after trying the Hogmaster out for themselves, there was no doubt in their minds that it was the right machine for them!
With their most popular and busy summer season in full swing, the farming couple wanted their own culinary showpiece to keep the visitors to the farm coming back for more and give the sales of their own pork a boost. They told us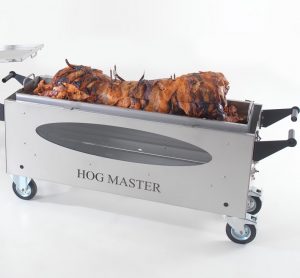 that the Hogmaster has done wonders for them in both respects and their guests not only love the flavoursome results the Hogmaster produces, but the cooking process itself. With a glass panel in the front of the machine, everyone can watch the pork as it slowly-roasts and chat to Karen (who has appointed herself hog roast Head Chef!) about the farm and the meat as they eagerly wait for it to be ready. Karen loves how sociable this way of cooking is and how user-friendly the Hogmaster is, as it looks terribly impressive but allows her to chat to her patrons whilst the machine does all of the hard work! Karen told me the Hogmaster has done great things for their business in a short space of time and their only regret it that they didn't buy it sooner!