If you have been thinking about purchasing a hog roast machine for a while but you are new to hog roast catering, you may understandably want to give it a try before taking the plunge and investing in one. Here at Hog Roast Mayland we can give you the opportunity to do exactly that as our entire range of machines that we sell are also available to hire!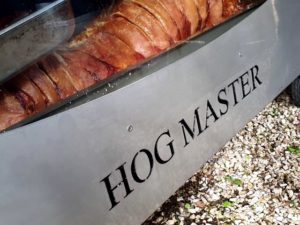 Hiring one Hog Roast Mayland's hog roast machines will give you the chance to try this classic cooking method for yourself, use it on your own premises or on-site at a venue if you are a mobile caterer, and determine whether the piece of equipment will suit your catering and business needs, which we have every confidence that it will! Our knowledgeable team will discuss your requirements, your level of experience and the sort of environment that you will be using the machine in, before selecting the perfect machine for your needs. Although all of the machines across our range are designed and made with a common goal – to produce the most succulent and tasty slow roasted pork imaginable – they differ in size, functionality and accessories. So, whether you want to hire a machine that has an incredibly vast capacity, one that can prepare other foods at the same time, or you would prefer a more compact model, we will definitely have a machine available to hire that fits your needs completely.
What's more, we design and manufacture our machines ourselves at our own head office workshop, drawing upon our vast experience of hog roast catering and utilising the most cutting edge technology to construct the most advanced and efficient hog roast machines on the market. This will give you the peace of mind that the machine you are hiring from us is the best example of hog roast catering equipment available and we're 100 per cent confident that your experience will be an extremely positive one!
Many of our clients who hire machines from us love them so much that they go on to buy one for themselves because they realise how beneficial and enjoyable owning a hog roast machine is! So, if you are interested in hiring one yourself or finding our more, get in touch with us here at Hog Roast Mayland today!