We often get asked by our clients how we came to be outdoor event caterers, so we thought we would write a blog about why we love it so much! It isn't just the pleasure of sharing our iconic signature hog roasts with as many new people as possible that makes us love our job. There are many things about catering in the great outdoors that make us feel very lucky indeed that we do it for a living!
Here are the 4 top reasons our team have put forward that makes us feel there is no better way of life than being the area's leading outdoor hog roast caterers.
The variety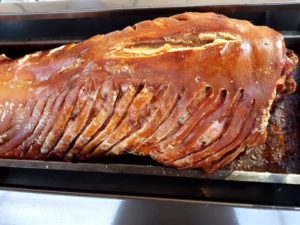 Whether it is the menus we are asked to prepare, the venue, the theme, style or size of the event, the clients and guests, or the atmosphere, every day is different for the Hog Roast Yateley team. The ever-growing popularity of our hog roast catering services for all different sorts of occasions in the locality ensures that we are continuing to experience ever more diversity in our work on a daily basis.
The venues
We can be in the middle of a muddy field for a festival, in a beautiful, landscaped garden for a wedding or at a business premises catering for a corporate event, and we thrive in the different environments we find ourselves catering in. Thanks to our versatile equipment and adaptable team, we can cater in just about any outdoor setting to the same high standard.
The clients
Exceeding the expectations of our clients and guests and going the extra mile to give everyone we feed a fantastic standard of food and service is a huge driving force for us here at Hog Roast Yateley. The smiling faces and satisfied customers we meet every day makes all the hard work more than worth it!
The creativity
Catering for such an assortment of events for a diverse range of clients in many types of outdoor settings requires a very creative and flexible approach and it is a challenge we can rise to every time. From our menu planning to how we prepare and serve the food, here at Hog Roast Yateley, we love finding innovative solutions for every detail of our hog roast catering packages.