Our customer service doesn't stop when Hog Roast Rotherham have sold one of our unbeatable Hogmaster machines, nor does our interest in what happens to it afterwards! We are always here to answer any questions or queries about cooking techniques or where to source the best quality local meat; if you are unsure about anything, we are just a phone call away. We also love getting feedback from our satisfied customers and finding out how investing in our Hogmaster has changed their lives and/or business for the better! The latest good news Hog Roast Rotherham can't wait to share comes from Tina and Leanne, two entrepreneurial ladies who 5 years ago came up with their idea of a pop- pub. The concept has been a big hit in all the festivals, summer fairs and outdoor events in the local area and the 'pop up pub ladies' as they are now known as, have become familiar faces across the region.
As popular as their pop-up pub is, Tina and Leanne decided that in order to stay ahead of the competition, they needed to start providing high quality food to their patrons, but they required an equally mobile set up when it came to catering. They found their answer in our Hogmaster machine, which as they were only too happy to tell us, ticks all the boxes! They told us what we already knew, but we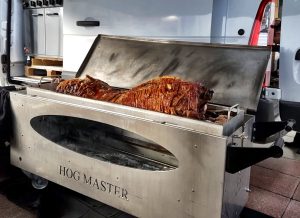 are always thrilled to hear it from customers as well!  It is compact and portable enough to take to all of the locations they work at and it produces fantastic quality meat every time, as well being an incredibly economical way of feeding a lot of people! They are also extremely pleased with how user-friendly the Hogmaster is- contrary to what they first thought, they don't have to stand on guard all the time while the meat is cooking. They are free to pull pints and chat to the patrons whilst the Hogmaster is doing its thing! They have flaunted the new addition to their travelling tavern at several local food festivals now and they have had fantastic feedback from everyone who has tried the succulent, slow roasted pork their new Hogmaster machine always produces without fail! Thanks for the great feedback ladies and Hog Roast Rotherham are so glad that the Hogmaster has given your business another unique selling point!