If you're in the market for your own hog roast machine, Hog Roast Church Stretton can help you decide on the best equipment to suit your needs, regardless of the size of your catering business. We're manufacturers of several models in our range, which we designed to work like conventional ovens as well as hog roasters, so you can cook so much more with one than you think. You could be roasting a hog above while cooking vegetables and potatoes inside at the same time, meaning you can cook an entire meal in one fell swoop if you need! We also have attachments so you can spit roast and barbecue meat if preferred, so once you've bought your own machine, you'll certainly get a lot out of it.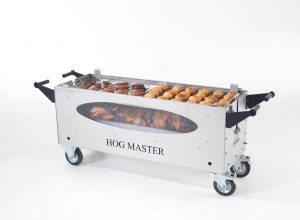 We always welcome our Hog Roast Church Stretton customers to view our range in our showroom in Lancashire and you can tour our factory and see a machine being made too and you don't even need an appointment. You can simply walk right in and visit our experts to see how adding a hog roaster to your catering portfolio will benefit you and we'll let you know the best one for your requirements. If you cater huge events, it may be that our mighty Platinum is right for you, as it cooks not only two pigs at the same time but four legs of pork and two hundred jacket potatoes, while you may instead need one of our smaller machines for your particular services.
If required, you can also chat to us about financing, as we offer the possibility of lease purchase, which means that capital outlay need not be an issue for you. We also have newly-serviced used machines on sale in our showroom, with the same excellent capabilities as our new ones and complete with a 12-month warranty and a 12-month gas check certificate but with a much lower price tag. You can even trade in for a newer machine in the future too.
Take the first step to owning your own equipment with Hog Roast Church Stretton and we're sure you won't regret it!