You will know Hog Roast Mayland as expert caterers who cater all kinds of parties and events with gorgeous food while ensuring excellent service. You may well also know that Hog Roast Mayland rent out hog roast machines so that you can DIY, whether as a domestic cook yourself or as a professional chef, for your own customers. Nevertheless, did you know that we designed and also build the equipment we hire out, and we sell them all over the world?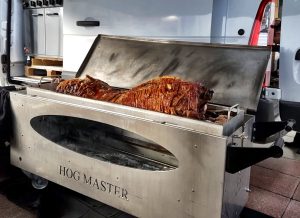 We perfected our own range of hog roasters over many years and they were designed to be lightweight, easy to move and handle and very simple to use, and they produce perfectly cooked food too, of course. They're not just all about the tasty meat that you can cook using one, however, as they work like conventional ovens, so you can cook all kinds of food inside just like you would with a normal oven. If you're looking for your own machine, whether to use at home instead of or in addition to your kitchen oven or to cook for your wedding or event catering business, for example, we welcome you to visit our salesroom in Lancashire to view our range in person, and you can also have a tour of our factory.
You don't need even need an appointment with Hog Roast Mayland to come and see our professionals to discuss your needs as we welcome walk-ins and when our new customer Roger came to visit us recently, he agreed that it was a great idea to do so before purchasing a new or used machine, as even though it's not compulsory, it's recommended for many reasons.
Roger was interested in buying his own machine for his static catering business, a food truck that provides hot and cold food, as he thought the new addition would be a big hit. After checking out our factory, watching a machine being built from scratch, talking to our professionals and then browsing our range, he left with his own hog roaster that we are sure will be a very popular option with his customers.