Mobile event caterers have faced tough times over the past year but following the Prime Minister's recent announcement it seems that finally there is light at the end of the tunnel and the prospect of events hopefully being able to take place again later on in the year is very welcome news indeed.
When restrictions on events begin to be lifted, outdoor gatherings are going to be deemed to be the most feasible option initially, and if you are a mobile event caterer, this may mean that there are certain aspects of your business model or equipment that you will need to adapt to be able to provide more outdoor dining catering services. We have all had to be incredibly adaptable during the last 12 months both for ourselves and our clients, and if you need some help in making your catering business more viable for outdoor events, the Spitting Pig team are here to help.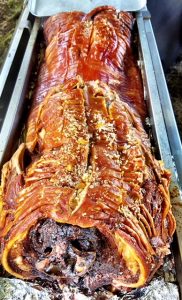 Here at Spitting Pig, we design and manufacture our own market leading hog roast machines at our UK workshop, and we have a range of cutting-edge equipment available, which is suitable to be transported to and used in just about any environment. Our equipment is compact yet robust and provides you with a very cost-effective and low-maintenance way of rustling up a large volume of freshly made food. As well as helping you prepare hogs and a range of other meats to perfection, we have models that can simultaneously prepare lots of veg and potato dishes, as well as allowing you to prepare barbecue style dishes.
Our equipment enables you to prepare a large amount of food at the same time, and doesn't require any power sources on-site, so you can provide hot freshly made food in the middle of a field with the minimum of fuss.
If you would like to try before you buy, as many of our clients do, you have the option of hiring a machine for a period of time, and we're sure you'll be delighted with its performance! You can check out the machines section of our website for specific information about the hog roast machines we have available to buy or you can speak to a member of the Spitting Pig team to find out more!