When buying catering equipment, it can be difficult to know what to go for in such a competitive market. Finding the right equipment for you and your team is an entirely personal choice, based on the style of catering you provide and the setting in which you cook. One of our most popular choices of machinery is the Hog Master, and this is why it is such a popular choice…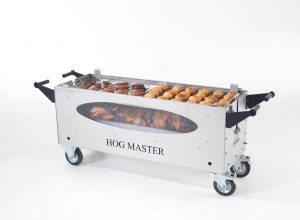 Many chefs have chosen to purchase their hog roast machine through Hog Roast Foxfield, since we have a variety of different machines too choose from. Our most popular machine is the Hogmaster since it produces a perfect hog time and time again. Not only this, but it is one of the easiest machines to use. All you need to do is add the hog to the roasting tray, add your favourite seasonings, and leave it to roast for approximately 6 hours! This leaves you with plenty of time to prepare your other dishes and get ready to serve your dishes.
The Hogmaster doesn't only cook hogs- it can also be used to grill and barbeque dishes, and the lid transforms the machine into a sleek serving table. This machine can be used to serve a tasty barbeque menu, or to cook delicious sides alongside your hog. This makes it the perfect addition for any event catering business since you can do it all from a single machine!
Overall, the Hogmaster features a compact and lightweight design, making it perfect for on-the-go catering. This is essential when it comes to event catering since you will often find yourself travelling across the country to reach your next venue. With the Hogmaster, this isn't a problem, since the machine can easily fit in the back of many large cars, alongside your fresh ingredients.
Hog Roast Foxfield sell a variety of roasting machines, with something that is ideal for any catering company. To find out more information, get in touch with our team today. There is a machine for every business, and we have years of experience when it comes to using Hogmasters and similar machines. We hope to hear from you soon!