Have you been thinking of hiring equipment so that you can cook your own delicious hog roast? Maybe you've enjoyed one of ours recently and you'd like to have a go at this way of cooking yourself in order to create a sumptuous centrepiece that your own guests can enjoy? Or perhaps you're a professional caterer just like us and you want to cook up a storm for your customers every now and again?
With a machine rental from Hog Roast Seacombe, you're in safe hands, even if you're completely new to the art of hog roasting, as one of our talented, friendly chefs walks you through exactly how to do cook a tasty masterpiece when we drop the machine off at your chosen venue. It's all part and parcel of hiring from us, as we have the experience and know-how that we can share with you, so that you can cook just like us, and once you've finished with your machine, we even collect it afterwards. A Hog Roast Seacombe machine hire is all-inclusive and all you need is your meat – and we can even provide that too for an extra cost.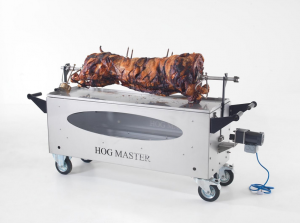 Once Hog Roast Seacombe shows you how to cook an amazing hog roast using one of one our very own machines, which we make ourselves by hand in our own factory, you'll already halfway there, but we also show you how to get the best out of the meat you're cooking. This doesn't actually need to be a hog, by the way, as our machines are so versatile that you can cook so much more with one, so with our special attachments, you can spit-roast your favourite meat instead, like chicken, turkey, lamb or beef, or you can barbecue sausages, burgers, ribs or anything else that you fancy.
Prefer to cook an entire meal in one go? With one of our trusty machines, you can, as they also work like normal ovens, so you could be roasting your meat at the same time as several seasonal vegetables and different potatoes cook to perfection inside too. Whatever you're thinking of making, call us today and book your rental.