While Hog Roast Rotherham is renowned for our first-class catering services both locally and nationally, providing tasty hog and spit roasts and all kinds of other culinary options for our customers, what you may not yet know is that we also offer additional services. We have our own factory in the north west of England, where we hand-build our own range of hog roast machines that we have perfected over many years, and we rent them out and sell them to customers far and wide – even internationally!
If you're a professional or even domestic chef who is thinking about purchasing your own, you are welcome to have a tour, see a machine being made from scratch and chat with our experts about the best one for your needs. Many of our customers are in the catering business like ourselves, and use one or more of our hog roast machines to cater weddings, corporate functions and private parties, just like we do, and when Jean-Paul called Hog Roast Rotherham to find out about our range, we invited him to the factory to see for himself.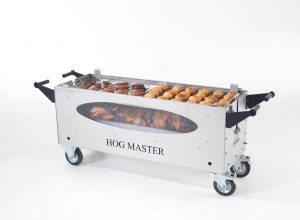 When Jean-Paul arrived at our factory and showroom, he was surprised to see several machines on sale and watched, suitably impressed, as one of our industry experts built one of our range. Being a wedding and event caterer, Jean-Paul had noticed a gap in the market in his area for this kind of food and as he has experience of cooking with this kind of equipment in the past, he couldn't wait to see what our machines could do. He soon spied our fantastic Hogmaster, which is so versatile that it can roast 36 chickens or joints of meat and not just hogs, and can be used to barbecue food too. When he saw that the lid could even be used as a serving table, Jean-Paul decided there and then that the Hogmaster was for him.
Get in touch with Hog Roast Rotherham today and have a chat with our dedicated team or pop by the factory and showroom and see how one of our machines can expand your business, save you money and cook your customers mouth-watering food every single time.