Now that Christmas is just around the corner, it's time to start thinking about the perfect gifts!
Whether you're searching for something extraordinary for a loved one or fancy treating yourself for a change, look no further than Hog Roast Machines' iconic HogMaster – a culinary marvel that promises to elevate your cooking experience.
Here are five reasons why the HogMaster should be at the top of your Xmas wish list this year!
Versatility for All Seasons:
The HogMaster is not your average hog roasting machine; it's a culinary powerhouse designed to fulfil a range of purposes. Beyond hog roasting, these grills excel at cooking a variety of meats and crafting the perfect accompaniments. Whether you're planning on smashing summertime BBQs or serving soul-warming winter feasts, the HogMaster's versatility makes it an ideal companion for year-round use.
Ease of Use for All Skill Levels:
Whether you're a five-star chef or a novice home cook, the HogMaster is designed with user-friendliness in mind. Hog Roast Machines has ensured that these grills require minimal effort to use, ensuring that cooking becomes an enjoyable experience for everyone. Say goodbye to complex setups and hello to a seamless cooking adventure.
Top-Quality Craftsmanship: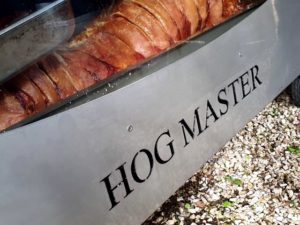 Crafted from the finest quality materials, HogMaster grills embody durability and excellence. Easy to clean and effortless to move, these grills are built to withstand the test of time, making them a worthy and long-lasting investment for your culinary adventures. A gift that keeps on giving, year after year!
Unlock New Opportunities:
Perhaps the most exciting reason to have a HogMaster on your wishlist is its potential for commercial use. Consider it a gateway to a brand new career or a lucrative side hustle. Whether you're dreaming of hosting events or starting your own catering business, a HogMaster opens doors to exciting opportunities in the world of culinary ventures.
UK's Most Popular Choice:
Join the ranks of those who have discovered the unmatched capabilities of the HogMaster – the UK's most popular hog roasting machine. Trusted by chefs, celebrated by cooks, and cherished by enthusiasts, this grill has earned its reputation as the go-to choice for culinary excellence.
This Christmas add a touch of sizzle to your wishlist, and let the HogMaster make your culinary dreams come true. Get in touch with Hog Roast Machines for more details.