Here at Hog Roast Mayland we are passionate about all things related to the art of hog roast catering. Not only do we supply our clients up and down the country with delicious, mouth-watering roasts but we also operate our own successful machines business. The machines business is largely operated from our factory and showroom in the heart of Lancashire, where we manufacture each and every one of the very machines our teams use to cater events.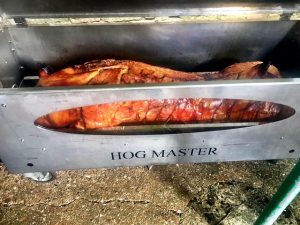 What's more is we also sell and hire out these machines to the public and are the proprietors of the UK's number one hog roast machines business. This week we received an enquiry from Dylan who was currently setting up his own catering company and was looking for unique ways to make himself stand out from other caterers. Having come across our Hog Roast Mayland website and falling in love with the idea of providing delicious roasts to his own customers Dylan had decided he would like to purchase a machine from us and learn the art of hog roasting himself.
Of course, our Hog Roast Mayland team were happy to help, and we directed him on the phone to make a visit to our showroom so that he could get a look at each of our machines as well as receive an induction in their use.
Dylan had gladly taken up our offer and arrived at the factory the next day. We showed off each of our many machines in our Hog Roast Mayland range and after speaking with Dylan about his catering needs, we were able to recommend the Hogmaster machine. This machine is actually our original design and has more than stood the test of time with its easy to use, durable design. Dylan was impressed and made his purchase for the Hogmaster there and then- we can't wait to hear how he gets on at his first event!