While you may well know Hog Roast Darlaston as purveyors of fine hog roast centrepieces and all sorts of other delicious food that gets the taste buds tingling too, we also have other strings to our bow that could be helpful to you. We train others to cook just like us and we make and sell our own hog roast machines, which are the ones we use ourselves when catering, and we even rent them out so that our customers can DIY themselves.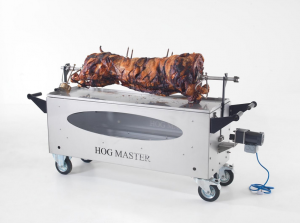 Whether you're a professional caterer yourself or you're a home cook, you may be wondering about hiring equipment from Hog Roast Darlaston so that you can make your own gorgeous hog or spit roasts for either customers or family and friends, and with ours, you can do either, as while they're named hog roast machines, we also have an attachment that lets you spit-roast your choice of meat instead, as well as an attachment so that you can barbecue. Not only that but the inside of one of our machines works just like the oven you have at home, so you can cook all sorts of vegetables and potatoes in there at the same time as you're cooking your meat, or you could even throw in a pizza or two!
Our hires are priced fully inclusive, as we know that there's nothing worse than finding out there are additional costs when you're renting equipment. One of our chefs will drop off the machine at your selected venue, whether that's your back garden or a venue where you're cooking for customers, and will show you exactly how to use it in order to get the best out of the food you'll be cooking with it, and collection of the machine is also included in the price.
If you're not sure where to source the meat you'll be cooking, whether it's pork, chicken, turkey, lamb or beef, or even something a bit more exotic, for an extra cost, we can do this for you and bring it along with the machine, fresh on the day. Call Hog Roast Darlaston today to book your hog roast machine rental and you won't regret it!