Hog Roast Blackburn can help your business in multiple ways, whether you need us to cater with delicious food, if you need help with training to cook just like us, if you'd like to rent our equipment or even if you're looking to buy your own hog roast machine. The top-quality, stainless steel ones that we hire out and sell are the same ones we use when catering, and we make them in our own Lancashire factory by hand, so you can rest assured that you'll be able to cook the same tasty fare that we produce with them, each and every time.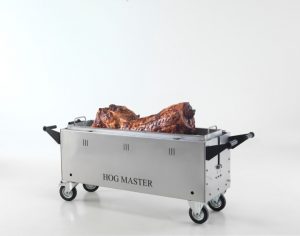 Purchasing your own machine is made easy with Hog Roast Blackburn, as we're there with you every step of the way, whether you'd like to deal with us over the phone or in person. You can make an appointment to visit us at our Lancashire showroom, where we can show you around our stock and you can tell us about your requirements so that we can find you the right fit. We have several models available, from smaller ones to a great beast of one which cooks more than you can imagine, and all of our machines give you the ability to instead spit-roast or barbecue with our special attachments if needed, as well as cook additional food inside, like vegetables and potatoes.
You may prefer to try before you buy with a hog roast machine rental, which is just what one of our new customers did recently, as he had never cooked in this way before. A hog roaster is a big investment, so when Paul decided that the pub he's landlord of could expand their catering offerings with hog and spit roasts, he asked to first hire one. So just the other day, one of our chefs took along a machine to the pub and walked him through how to use it and in no time at all, he cooked up a storm with a hog roast centrepiece for several of his friends.
Later this week, Paul is visiting us in order to place an order for his very own machine, as he's hooked after just one try!