We love showing people around our factory and earlier today was no different, when we showed off our top-class hog roasting machines to wedding caterers Lauren and Daley. Having been in the catering business together for many years, the long-time friends decided to look into adding the hog roast catering string to their bow, as they've found that more and more people are requesting it as the main course for their big day. While this kind of animal-cooking has been around for centuries, of course, modern-day hog roasting using electric or gas-fuelled machines has grown massively in recent years and Lauren and Daley wanted to see what all the fuss was about.
Our state-of-the-art factory in the northwest of England is where we produce the machines that we lovingly designed ourselves and then perfected after many years. You can even see a machine being hand-built from scratch, like Lauren and Daley did today. We manufacture hog roasting machines that run on gas, meaning our equipment can be used anywhere you like as long as you have a gas bottle. You can easily move one of our machines due to their pneumatic tyres and steering system, so catering a wedding reception in the middle of a farm, up a mountain or even on a beach is something that can be done if needed.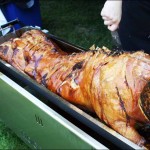 Our dedicated staff, from engineers to showroom assistants, happily talked to Lauren and Daley about what goes into making one of our machines from start to finish and how one can help to make a customer's special day a big success. They also let them know how versatile they are; you can use one to cook a whole meal, for example. You can roast the hog (or another animal) at the top of the machine, while cooking various vegetables and potatoes down below, whether that's new potatoes, baking potatoes or roast potatoes.
At the end of the tour, Lauren and Daley looked over our full range in the showroom and decided to hire a machine before committing to buying, as they had never used one before. We look forward to hearing how their hog roast turned out!