If you didn't already know that we sell hog roast machines, you may be surprised to learn that we actually designed them ourselves and that we manufacture them here in the UK. We have our own factory and showroom in the northwest of England and we are happy to show you around if you're thinking about buying your own machine. We're the leaders in hog roast machines in this country and buying one of ours is a wise investment that can really save you money in the long-term.
We showed Michael around last week after he called to say he had seen our website and was thinking about getting a machine for home use. While many of our customers are professionals in the business of catering, we do also often sell machines to domestic users like Michael. We have a few different machines on sale (the Hogmaster, Hogmaster Pro, along with the many accessory kits) and we can advise you on which would be most suitable for what you want to do.
When Michael arrived, he was impressed with the options and we not only demonstrated some of them to help him decide but he also watched new machines being hand built by our factory workers. We gave him as much information as he could handle (we do like to talk about our hog roasting passion!) and advised him to hire a machine if he had never used one yet, which he duly did.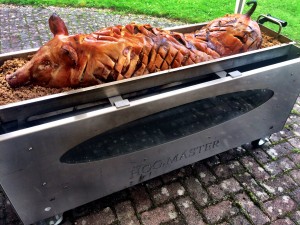 One of the main things Michael was so surprised with when we showed him how to use his hire machine at home was the fact that you can use it to cook so much more than a hog roast. We provide attachments so that you can spit roast or barbecue meat and you can also cook vegetables and potatoes at the same time. You can cook a whole heap of baking potatoes at the bottom of a machine while the meat slows roasts above. These hog roasting machines are incredibly versatile and even easy to use, as Michael learned, and that's why he ordered his own after his visit. He has been busy cooking up lots of hog roasts for his friends and family since!