You may already know that we rent out our own hog roasting machines to catering professionals who want to provide an additional service for the customers, but did you know that you can rent one yourself to DIY at home, too? Plus you're not actually restricted to just cooking at home if you hire our equipment, as the machines are ultra-portable, can manage different kinds of terrain and they run on gas, so you cook just about anywhere you like!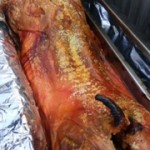 Our new customer Stan was more than happy to find this out recently, when he called us to enquire about renting a hog roast machine for a family party. He was unsure of the venue but still wanted to make sure that he could hire a machine in advance of that particular day. We include a drop-off and collection service with the rental, so we could take the machine to Stan's home and he could easily transport it to the venue himself. However, once he knew where the venue would be, we could take it there instead if needed. We are adaptable because we want our customers to be happy, so always feel free to ask us if you have any such requirements.
On Friday, I went to Stan's family home with one of our popular Hogmaster machines, as the venue was still undecided. He asked us to provide a hog, too, which we often do for customers. We have known our suppliers for many years and we trust the quality, so you can be sure of fresh, great-tasting meat when we provide this extra service. Stan was excited and a little nervous to learn about what to do with the beast, but I put him at ease when I told him hog roasting is an art that's actually fairly easy to master.
Showing Stan how to operate our machine was the easiest part and then I talked him through preparing the meat for its roasting. Then I left him to it, with detailed instructions to refer back to just in case.
When I collected the machine earlier today, Stan told me all about the successful hog roast he'd cooked for his family over the weekend, and he was so happy that he's renting one again next weekend!