If you've always wanted to create your own hog roast spectacle in the comfort of your own home surroundings or even elsewhere, why not 'go the whole hog' and hire our top-class equipment to DIY? As leaders in designing and engineering our very own hog roast machines, we will show you the ropes where the preparation and cooking of a hog is concerned and we even deliver to and collect from the venue of your choice, including your home or work.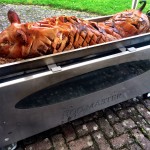 Our machines are super-easy to use, ultra-portable so you can cook just about wherever you like, and they're powered by gas, so you don't need mains electricity to cook up a storm with one. We provide you with a gas bottle and we can also bring along a locally-sourced quality hog or other animal for you to cook if required. Whether you're cooking for family and friends, or you're a professional caterer wanting to roast a hog for a particular event, we have a range of machines both to hire and for sale, and while some of them are excellent for large-scale events, we also have some that are ideal for smaller parties.
 Local pig farmer Adrian came to us recently, as he wanted to rent one of our hog roasting machines for an event he was holding at his farm. He'd always wanted to try this way of cooking himself, and was thinking of buying a machine for his farm events, but we convinced him to 'try before you buy'. Once tried, we find that our customers love this way of cooking pork, and often get hooked. Adrian would be roasting one of his own farm-reared beasts for this event, with a view to regularly doing so in the future, so he booked us in to deliver a machine to use over the weekend.
 I delivered the machine in person to Adrian on Friday and showed him to use it and how we prepare hogs for roasting. Once he was happy with using it, I left him with detailed instructions in case he needed to refer back, and then left him to it. Before I was meant to collect the machine, Adrian called to hire it for another few days, as he just didn't want to give it back! His event was a huge success and we think he'll be buying one of his own soon.