With a sense of optimism starting to grip the nation again after England's successful world cup opener, Derek, the bar manager of a local cricket club, decided to rig up the big screen outside and gather the local community to cheer our team on together in their next group game over a few beers in the sun. As an extra incentive to lure the football watching locals into his establishment, he decided to put on some free food for his customers. As Derek didn't want to miss a minute of the match himself, he didn't want to do anything too complicated or time consuming, but he also wanted to offer his punters something that was a step up from what he would usually do.
He made a call to our customer service team to enquire about hiring one of our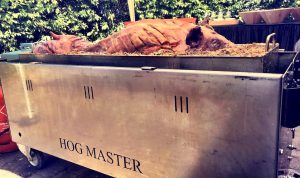 machines, but with a tight budget and not being the best chef in the world, he was worried he was being a bit too ambitious. We quickly put Derek's mind at ease when we introduced him our top of the range Hogmaster machine! Derek couldn't believe how much pork it can cook for such a great price and he was very relieved when we told him how easy it is to use, whilst also looking incredibly impressive to his diners!
With Derek well and truly on board, we delivered it to his club bright and early on the morning of the match. Derek was planning on cooking the hog roast whilst the game was on, with a view to serving it after the final whistle. He said the place was packed and as he had hoped, people opted to come to the cricket club rather than a local pub to watch the match because the offer of a free hog roast was too great to resist!
Derek said he loved showing off his new-found chef skills as his guests eagerly anticipated the slow cooked pork! He couldn't have asked for better results with both the food and the footy as everyone watched with amazement as England scored goal after goal! Derek and his patrons were thrilled with the 6-1 result and just as chuffed with the food! He told us that the Hogmaster must be a lucky charm and he has now decided to buy one so he can help England's world cup success to continue!