Stalls selling exotic street food have become very trendy over the last few years and you can't go to a food festival without seeing purveyors of freshly made, no-nonsense cuisine from all 4 corners of the globe. Mobile caterer Helen loved the idea behind it and had sampled some amazing flavours herself, but with the market already being oversaturated, she wanted to put her own spin on the popular phenomenon. She decided to trial her version of British street food, which would be a far cry from hamburgers and hotdogs. She wanted to showcase classic flavours and the best local ingredients, all cooked in full view of her guests. She needed to find a method of cooking that could achieve her aim, but which was also viable to do on location. In short, Helen needed one of our Hogmasters!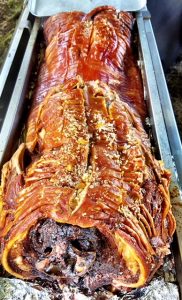 Helen didn't quite know what she was looking for at first and she admitted to us that a hog roast machine had never crossed her mind, because she thought they were too clunky to transport easily and too labour intensive for her to be able to serve all of her diners efficiently. But that all changed as soon as she found out about the Hogmaster and its many facets! The more she learnt about this magnificent machine, the more it dawned on her that it was exactly what she needed to turn her British street food concept into a reality! So much so, that she didn't even want to hire it for the day to give it a go first, she took the plunge and bought one straight away!
When Helen dropped us a line a couple of weeks later, she told us the Hogmaster had changed her perception of hog roasting forever, and after having such amazing results, she couldn't think of a better piece of equipment by her side whilst she launched her one-woman campaign to showcase British cooking at its best! It seems like Helen and her Hogmaster are a force to be reckoned with on the food festival circuit-Jamie Oliver watch this space!