Hog Roast Kendal enjoyed a lovely start to the week on Monday morning; though the weather was mild, the sun remained high in the sky with only a few clouds in sight to break up the vast sea of blue. So, by all accounts, it was a beautiful day – especially if you're going by typical UK standards!
Much like the rest of the country, our team was immensely grateful for the good weather. Even more so because they had been asked to spend all day outside, cooking our signature slow roasted hog rolls for passers-by in the local community. Our client on this occasion was cafe owner, Jodie, who in the hopes of boosting traffic for her business, had asked us to step in and present some of our tastiest grub to her customers.
As always, the Hog Roast Kendal catering crew were all too happy to help out where we could and working closely with the client, our catering manager was able to help her come up with a full-proof plan of action that would ensure long-lasting interest from passing patrons.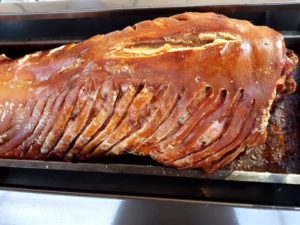 So, naturally, for our team, the early hours of Monday morning were spent doing what we do best. That is; scoring the skin of a free-range pig, and rubbing the meat down with sea salt and water before leaving it to rotate over a low flame for several hours; which resulted in some perfectly rendered crackling and insides of delicious, tenderised pork. To complete the show-stopping centrepiece, homemade accompaniments of applesauce, wholemeal and gluten-free rolls, along with sage and onion stuffing were included for extra flavour – which had the guests entranced from their very first bite!
After watching the Hog Roast Kendal team effortlessly serve roll after roll of juicy hog meat all day long, Jodie was so impressed with the ease of using our machines that she almost immediately decided to permanently kit out her cafe with her very own spit-roasting machine from our expansive collection of purchase options! We were so pleased to hear this news, and we can't wait to drop off the machine later in the week!