Would you like to get your hands on one of the world's best-rated hog roasting machines? What am I saying, of course, you would – and the good news is, you're in the right place!
As the UK's front running spit-roasting service, here at Hog Roast Hull, our primary focus is on sharing our love of, yes, you guessed it, hog roasts with the nation; and there are a few ways in which we do this.
Firstly, we offer a fully catered for service, which is definitely one of our more popular options. This sees our time-served catering crew manage every aspect of your event; from helping you to come up with the ideal menu and serving it in style at your chosen venue, to clearing up after the celebration is over; and everything in between. We also offer contactless deliveries, which has been a lifesaver for many in the wake of the ongoing pandemic. But more than that, our service also includes a hire and purchase option!
When we started building the business from the ground up all those years ago, we found ourselves in desperate need of quality tools; and after our search to find the perfect machines failed, we decided to make our own.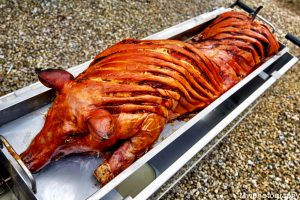 Now, Hog Roast Hull is the industry leader, not only in regards to our catering, but also in the manufacturing aspect of our business. The even better news is that anyone can get a hold of one of these prized machines for a reasonable price with some great financing options.
All training is inclusive and provided by us through detailed seminars where you can learn all our culinary tricks of the trade. To make things even easier for you, we offer a range of exclusive add-on parts and accessories, which makes the already effortless task of using our machines even more so.
On that note, why not explore our broad range of devices available on our website today, or contact Hog Roast Hullto find out more before making a purchase? Whether you're a farmer, cafe owner, restauranteur, or simply a hog roast enthusiast, our machines are for you!