Whatever your hog roasting or cooking needs, to get the best results you'll want to be working with the best machines available on the market. With our top-of-the-line Hog Roast Machines you can trust that you are getting a premium quality product that can take care of all your culinary desires. Equipped with one of these you'll be able to cook up a myriad of brilliant roasts, be it pork, beef, chicken, lamb, or even barbecued foods or roast potatoes and veg and meat skewers, with perfect results every single time. Our Hog Roast Machines come in various shapes and sizes to let for various needs, whether that be the need to cook 2 or more hog roasts at once, or one hog roast along with 10 chicken legs and drums or 100 roast potatoes, or two have two different meat roasts turning at once. There is something to be found for every taste and need with our Hog Roast Machines.
By renting or purchasing your very own Hog Roast Machine from us today you'll be getting a top line product at the forefront of current hog roast technology. Every machine is manufactured by us with the highest-grade stainless steel to ensure that they are robust for mobile catering, and have the most advanced hog roast technology available. It also gives them a sleek, professional look so that they look just as good when cooking as your finished hog roast!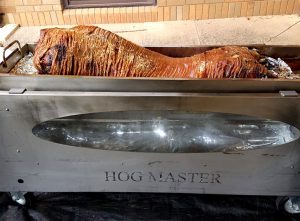 Our line of Hog Roast Machines is updated each year to ensure that our customers and our franchises are always receiving the best quality machine. When purchasing or renting we'll perform a gas safety check to be able to pass your machine with a 12-month safety certificate, and at any time you can return to us for another check and even a full service. Yes, once you have your machine it can get better still if you don't want to swap in for an entirely new model every 12 months. We can service your machine and also sell you newer parts to keep your machine feeling fresh even after hundreds of cooks! Our parts also allow you to get more advanced with your roasting if you so wish by adding new attachments for different cooking styles!
If you're a roast lover then this is the purchase for you today at Hog Roast Machine!