You'll know Hog Roast Harrogate as providers of tasty food, including our signature food as well as much more like spit roasts, barbecues and options for special diets. You may also know us for our hog roast machine rentals, where both professional chefs and domestic cooks can hire the equipment we use in order to whip up something delicious just like us. But did you know that we're also renowned for building those very machines by hand and selling them all around the world?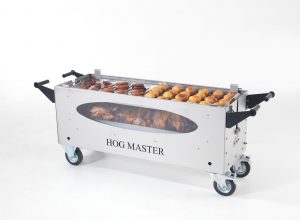 We have several models in our own range, from smaller machines to a beast of one, and each has the same excellent capabilities in terms of producing delicious food – and not only scrumptious hog roasts. We have special attachments so that you can spit-roast beef, lamb or poultry (or even something more unusual), as well as one so you can barbecue anything you like. We designed our own hog roasters to work just like conventional ovens too, so you can actually cook so much more with them than you may think and that's one of the reasons why they're favoured by many caterers. If you need to make a whole meal, for example, the meat can sizzle away atop the machine while your choice of vegetables and potatoes cook to perfection inside at the same time.
We know that buying your own hog roast machine, especially your first, can be quite a daunting thought, but our Hog Roast Harrogate experts are with you every step of the way, from explaining how to use one to getting the best out of it, as well as helping you to choose the one that's best for your particular needs. You can visit us in person if preferred, at our Lancashire showroom, to browse our range and have a chat, and you're welcome to pop into our factory to watch one of our roasters being made from scratch. There's no need to make an appointment, as we welcome walk-ins, but if you prefer to call us first, phone Hog Roast Harrogate and we'll help you kick start the process of owning your very own machine.