When you're hiring a hog roast machine, even if it's especially easy to use, you can benefit a lot from an expert talking to you about how to work it and get the best out of it and that's why when you rent with Hog Roast Brompton, our chef will drop it off at your chosen venue and do just that. We don't just leave you to it until you're sure of what you're doing (even though our equipment really is simple to use, as you set the temperature, turn it on and then just watch over the meat as it sizzles away).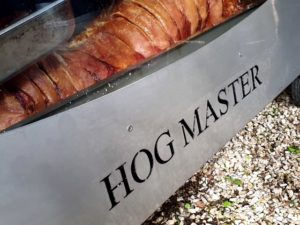 The top-notch stainless steel hog roasters that we hire out are not only the ones we use ourselves here at Hog Roast Brompton but we also designed them and make them by hand in Lancashire. So who better to show you how to use one when you fancy a DIY affair! Whether you're a caterer yourself who needs a one-off hire to cook for your own customers or if you want to create a tasty feast for family or friends at home in your garden, our range of machines includes ones to suit every cook of every ability.
One thing that often surprises new rental customers of ours is when we tell them that you can cook much more than a sumptuous hog roast with our equipment if needed, including alternative meats with our spit-roast and barbecue attachments. Moreover, inside, you can cook anything you'd normally cook in your home oven, which is especially useful if you want to create a whole meal of meat, potatoes and vegetables all at the same time, in the same machine.
You may not know where to source the meat that you want to cook yourself but we can also provide this if required, for an additional cost, and rest assured that it'll be the same high-quality, fresh, local meat that we use ourselves when catering parties and events. Whatever reason you're thinking of renting a hog roast machine, call Hog Roast Brompton to book one of ours today – you won't regret it!