Hog Roast Leighton Buzzard doesn't only create gorgeous homemade dishes for all kinds of parties and events, as we also hire out the machines that we use to make that tasty food and we even sell that equipment to both professional chefs and domestic cooks too. We make our own brand of top-quality stainless steel hog roast machines by hand from scratch and sell them to buyers all over the world and with several models under our belt, we have different ones to suit different needs, but they all make the same mouth watering hog roasts.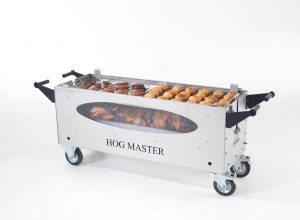 Nevertheless, you may be surprised to find out that our hog roasters can cook so much more too, and with our special attachments, you can cook spit-roasted and barbecued meat and the inside actually works like a conventional oven, so you can cook anything else in there that you fancy, just like you would at home. Many of our customers use our machines to cook an entire meal in one fell swoop, by cooking their choice of meat above while seasonal vegetables and potatoes cook away inside at the same time and at Hog Roast Leighton Buzzard, our chefs often do this when catering.
Buying your own hog roast machine from us is an excellent investment and that's whether you prefer to purchase a new or used one, as we sell both. Our showroom and factory are situated in Lancashire and you can come and have a tour of the latter, where you can see a machine being built (there's no need to make an appointment as we welcome walk-ins) and then take a look at our stock and talk to our experts about your particular needs.
Whether you're thinking about buying a hog roaster to cook for your own customers, regardless of whether you're just starting out or you're a seasoned professional already, or you're wondering about having one at home to use instead of your oven, Hog Roast Leighton Buzzard can talk you through the ins and outs of cooking in this wonderful way and how to get the best out of the machine best for you, so call or visit today.